I believe that we come to this world to let ourselves be loved and to continue loving others dearly. Every day I get up and do my daily routines of grooming, eating breakfast and reading the newspaper. However, at 7.30 or 8 o'clock at the latest, I go to San Anton church to say good morning to the homeless who are having breakfast there without knowing exactly where and how they have spent the night. I know that some of them have slept among cardboard, others in doorways or in parks, and the most fortunate ones in shelters. That moment of saying good morning to them and seeing them there, having a cup of hot coffee with something to eat comforts me as much as it does for them.
San Antón is a field hospital. I see it every day and not only in the poor, in the excluded, in the homeless; I see it in the people who sit down to talk to me and tell me how much they suffer, how lonely they are. Loneliness kills more than hunger, as my dear Teresa of Calcutta said, and it is true. How many people die alone and are not even found except at the time of opening their will. I love all of them very much and the love I give them is returned to me as well. How many times have I heard from their lips the phrase "thank you for listening to me, Father", because that is all they need: a person who listens to them and gives them love.
Loneliness kills more than hunger, as my dear Teresa of Calcutta said, and it is true.
These words remind me of one of my last conversations with Ernesto Cardenal, the author of this book. I asked him to make prayers with me and he replied: "Angel, I don't make prayers; I pray" . And what is to pray, Ernesto," I asked him. What you and I are doing now: talking, chatting, spending time with others, but also eating and loving, walking…".
Love is sometimes seen with fear. I remember when I was in the seminary, they constantly reminded us "be careful, you must not fall in love"…and I wondered how it was possible to avoid it, because in a platonic way I have fallen in love with people, with projects, with dreams and now that I am almost 83 years old, I continue to fall in love with life and with people. We can all find love at any age, but that platonic and earthly love is small compared to the mystical love that we come to feel for the saints we have had the pleasure of knowing, such as Father Jaime Garralda; the bishop of the poor, Pedro Casaldáliga; Vicente Ferrer, that saint in jeans and a T-shirt; Teresa of Calculta, who loved the sick that no one wanted to see and the excluded of life whom no one loved; and of course, the absolute love that people like me, who have Christian devotion, feel for Jesus, for God.
To love means to enjoy life, to enjoy others, to enjoy the love of others, even though loving also means to suffer many times. If you love others, if you love the most in need, the most vulnerable, it is not possible to avoid pain: to see the war in Syria or the dead in Haiti and see children die, even die in your arms, it is impossible not to suffer. There are things you can never get used to. On these occasions I have often asked myself where God was and I remember the teachings of Pope Francis, who I adore, because when I was with him once in the Philippines, a little girl approached him to ask him why do children suffer. Francis looked her in the eyes and said: "There is no answer, only your tears" and for me that answer was a revelation. The fault is not God's; He always forgives; man forgives sometimes but nature never forgives; all these experiences with the people who suffer the most leave a deep mark in your heart that sometimes is difficult to bear.
I have an infallible trick: when I get home and I kiss my child, I forget everything, I only feel the love of a father and I receive at the same time his love as a son. If it were not for Josué, I would not be able to sleep, he is the best gift that God has given me. See? I am talking about love again.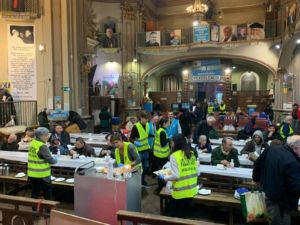 San Antón, this Church that I dreamed of for so many years, fulfills the Pope's wish, open the temples so that the Church can go out to the street and the street can enter it: "To have the temples with open doors everywhere so that all those who seek do not find the coldness of closed doors". And that happens in San Antón, which is filled with people who need to love and be loved. Earlier I mentioned the homeless, the poor or people who feel lonely, but San Antón is also visited by the peripheries that the Church refers to, the people who are close to the Catholic Church and to whom many times the doors that should always be open have been closed. I am referring to homosexuals, the divorced, the children of single mothers… How can I not bless the union between two people who love each other? How can I not bless children who have no father? How can I not bless people who are broken by a marital separation? It makes no sense to me. If I bless animals in San Antón honoring their patron, I bless people who come in search of encouragement and love.
As I have said so many times: I prefer to ask for forgiveness than to ask for permission. When I have baptized the child of a lesbian couple, I do it without asking permission and if they scold me, then I ask for forgiveness, but at least I have not failed in my vow of obedience. If I had asked permission and they had denied me… then it would be another story. If I had not done it this way, I would not have San Antón, nor Mensajeros de la Paz, nor any of the projects we have undertaken.
Our driving force in Mensajeros de la Paz is love, love for others, love among ourselves and above all, the love of God that we know fills everything. I return to a phrase of the Pope who tells us that "The embrace of God's love has the power to silence all our sins, no matter how many". The Pope reminds us of the most important commandment for a Christian: to love God and to love our fellow human beings. One thing goes hand in hand with the other because God is always and everywhere: in the children who cry, in the poor who ask for our help, in the animals…
How can I deny blessing to anyone if that blessing is love? Juan, the apostle, said it, God is love.