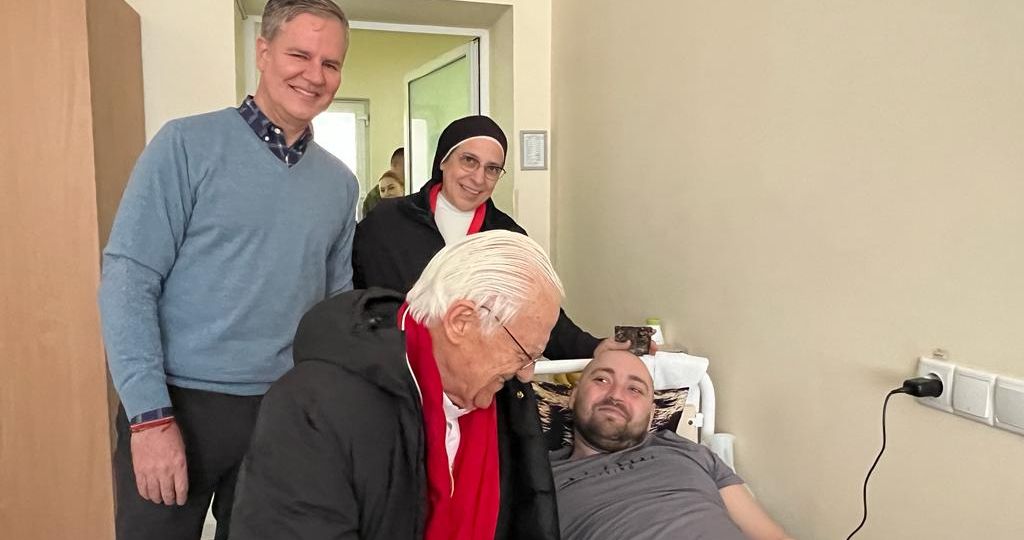 Since the invasion in Ukraine began, we have provided assistance to nearly 4,000 Ukrainian victims of the Russian invasion, including war wounded and oncology patients. We have collaborated by sending 84 ambulances, a bus for the transfer of the injured, medical supplies, and nearly a hundred electric generators.
Padre Ángel and Sister Lucía Caram, as representatives of Mensajeros de la Paz and Fundaciò del Convent Santa Clara, have travelled to Ukraine multiple times. On this occasion, along with Juan Carlos Cruz, advisor to Pope Francis, they have delivered Pope Francis's message and rosaries to President Zelenski. They have visited the wounded at the military hospital and received a decoration from the Government of Ukraine addressed to Padre Ángel, Sister Lucía, and Juan Carlos.
In addition, Mensajeros de la Paz has presented the memories of the field hospital and a report of all the work done in the country to the Spanish Ambassador in Ukraine, Ricardo López Aranda, and the U.S. Ambassador in Ukraine, Bridget Brink.
For the members of Mensajeros de la Paz, it has been a "very emotional" moment, and in the words of Padre Ángel, "we have been able to talk about the need for the peace that Pope Francis conveyed to us." We know that President Zelenski is deeply grateful for all the work being carried out by Spanish NGOs like Mensajeros de la Paz and Fundaciò del Convent Santa Clara.
From Mensajeros de la Paz, we want to remind everyone that we are still in the midst of a fundraising campaign to establish a field hospital #RetoHospitalDeCampaña: a solidarity initiative aimed at providing provisional and immediate care to the wounded in the Ukraine War. This project is being carried out in collaboration with Fundaciò del Convent Santa Clara.
In our humanitarian aid projects in the country, we are witnessing the devastating consequences of the war first-hand. At Mensajeros de la Paz, we remain committed to helping all the innocent people suffering the consequences of this unjust war.
Today, more than ever, we want to express our concern for the situation of conflict in Ukraine and our desire for peace.
Sergio Mella Aceves.
General Director of Mensajeros de la Paz.